Strong App

alternative

My Lift Log's easy to use, no frills, interface makes it the best Strong App alternative. Sign up now to effortlessly track your fitness journey.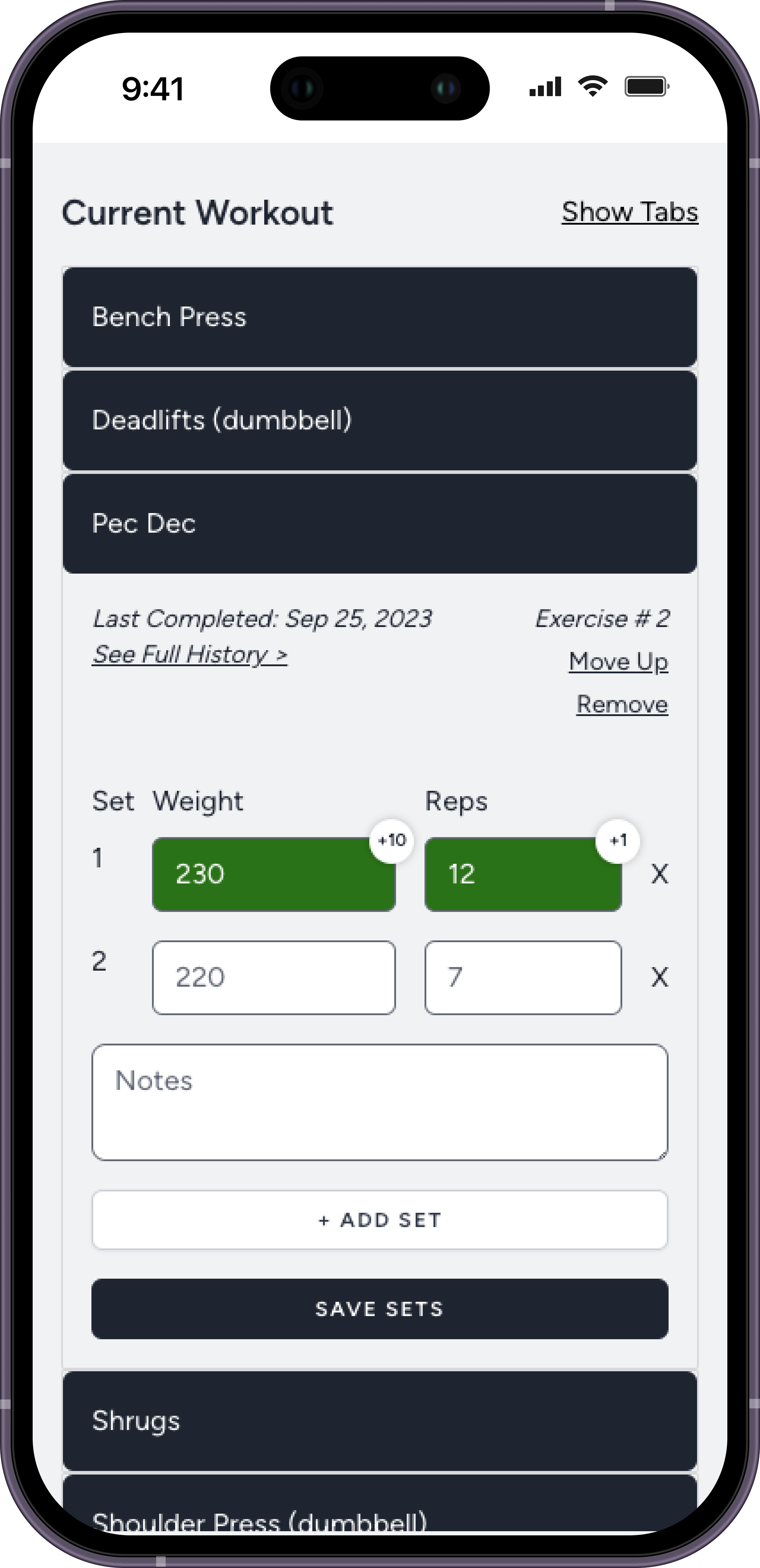 Easier

To Use
1. No math to figure out if you beat your "previous" set or not
2. Create an exercise mid-workout from the dashboard
3. Notes aren't hidden behind a button/modal
4. Hide tabs for a more focused workout
5. Start a populated workout with 1 click
6. Add any (custom) exercise you'd like
7. Larger weight/reps inputs
8. Collapsible exercises
9. Easier to delete a set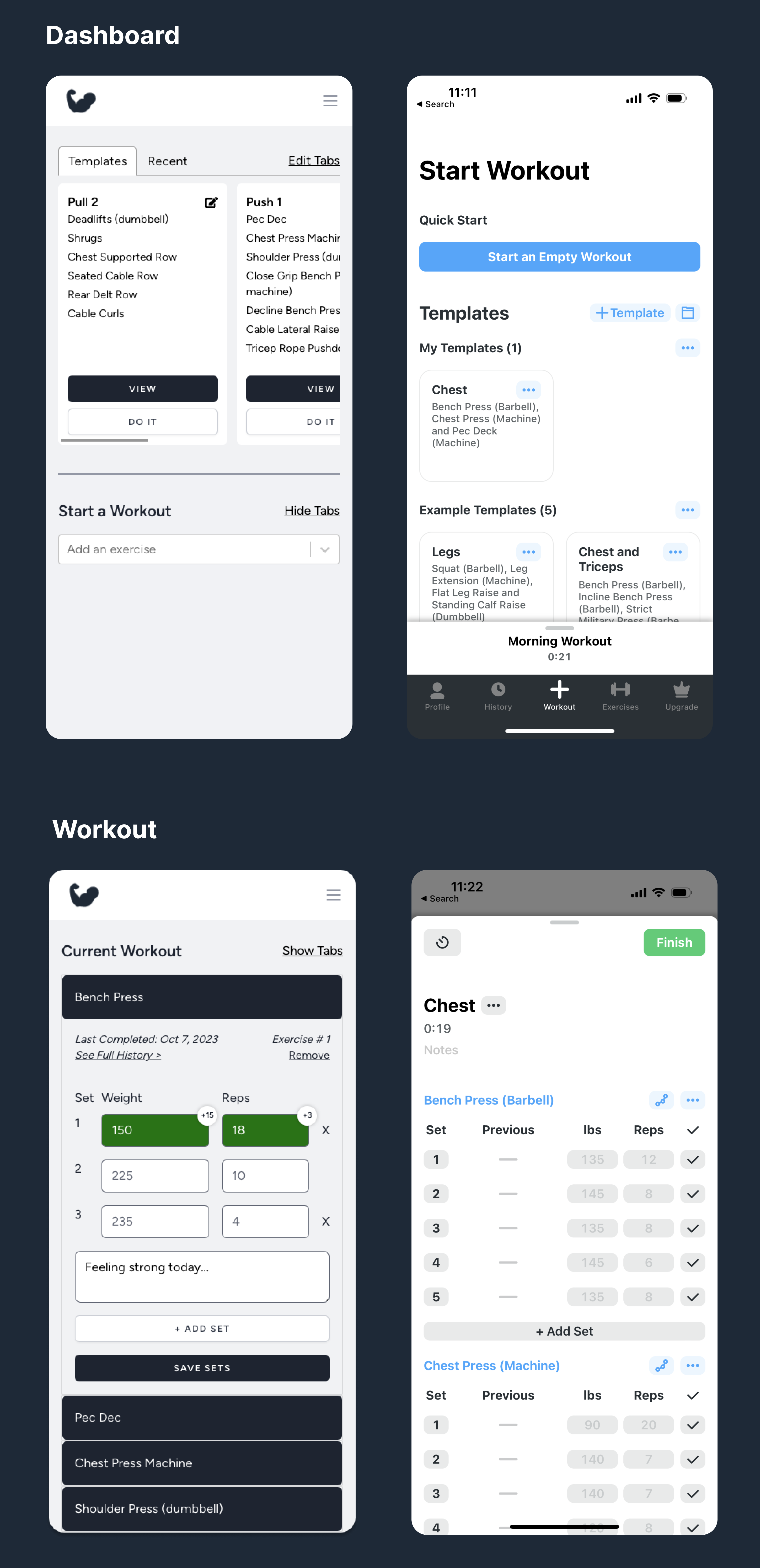 Pricing
| My Lift Log | Strong |
| --- | --- |
| $4/month | $5/month |
| $28/year | $29.99/year |
Main Features
Pre-filled weight & reps
Never second-guess your progress again. Whether you did it last Tuesday or last year, your weights & reps are pre-filled. You can do 1 more, right?
Build Templates
Push day, pull day, leg day, any day except rest day. Save your customized workouts and start them anytime with just 1 click.
Schedule Workouts
Schedule next week, the next month, hell the whole year if you want. All you have to do is show up, day in and day out!
Progress Pictures
Regularly taking and uploading progress pictures can be a game-changer in your fitness journey, helping you stay on track and achieve the results you desire.
Simple to use
Too many fitness apps these days are bloated with tutorials, target muscle groups, and excess features you'll never use! We guarantee you won't find one that's more user-friendly.
Personal trainer mode
COMING SOON - Schedule client's workouts in advance. Accept payment. Everything you need to run a personal trainer business in one place!
What our users say?
" I like the cleaner dashboard in My Lift Log, and also that numbers and important things have a bigger font. It makes it more time efficient to use. The less time in the app, the more time working out. "
---
" I love that I can create any exercise I want right from the dashboard. I often use templates, but sometimes it's nice to throw in a random exercise here and there. All other apps make me choose from a pre-set list of exercises. My Lift Log is the best weightlifting log app that I've ever used. "
---
" For years, I went to the gym and just guessed what weight and reps to do each workout. A buddy of mine recommend My Lift Log to me and I never looked back... results can take forever, but its amazing to see the litle wins each and every workout when you beat a set by 1 or up the weight by 5lbs. Im addicted! "
---
Step-by-step guide
How to use My Lift Log?
Tired of downloading yet another app? Our app is 100% web-based. That means there's nothing to download and you can easily access your data on ANY device.
Go to myliftlog.app
My Lift Log is 100% web-based. That means you don't need to download anything and can easily accesss your workout data from ANY device.
Sign up
All we ask for is an email. We do not store any personal information or sell any of your data to third-party vendors or advertisers. Seriously, none!
Add an exercise
Explore our diverse collection of exercises (you can add your own customer exercises!), create your own template, schedule a workout. You can get started with 1 click!
Start lifting
All that's left to do is get to work! So what do you say? Are you ready to go?
Still have some doubts?
What does this app do?
My Lift Log provides an easy way to track your workouts. Whether you did an exercise last week or last year, your weights & reps are pre-filled. Progressive overload has never been easiesr. You can also create workout templates, schedule workouts, upload progress pictures, and more!
How can this app solve my problem?
The majority of gym-goers don't track their workouts. Each time they show up to the gym, they guess what they did last time or go off of what "feels" right. Years go by and they don't see any changes! Going to the gym is hard enough, why wouldn't maximze your time there and get the most out of your workouts?
Is it available for my device?
My Lift Log is web-based and available on ANY device with an internet connection.
What makes this app different from others?
My Lift Log stands out for its user-friendly interface and no frills design. Tons of apps are bloated with tutorial vidoes, target muscle group illustrations, fancy animations, you name it. Our users are on the app for an average of 2 minutes during their workouts. Get in, get out, get on with your life.
Are there any costs involved?
My Lift Log offers a 30 day free trial. No credit card is required. After that, a subscription of $4/month or $28/year (42% off!) is required.